Jack Sheridan is a local restaurant bar owner and former US Marine. He becomes interested in Melinda Monroe when she moves to the town Virgin River, but finds their relationship strained when he unexpectedly becomes the father of unborn twins.
History
[
]
Life in the Marines
[
]
Little is known about Jack's early life, other than he served in the US Marines, where he was the sergeant of Preacher, Brady and several other men. After losing one of his marines, Lonergan, Jack left the Marines alongside the rest of his team. Numerous years later, Jack still struggles with the loss of Lonergan, and suffers from PTSD from the day of his death.
Relationship with Mel
[
]
When Melinda Monroe arrives in Virgin River, Jack is immediately taken aback and becomes interested in her. He works with Hope to convince Mel to remain in Virgin River when she encounters troubles with Vernon at the medical practice. Jack begins fixing the McCrea Cabin in an attempt to give somewhere permanent for Mel to live, and begins showing her the finer things that Virgin River has to offer.
Eventually, the two grow closer and begin spending more time together. Things are difficult for the two, however, given Mel is a widow and hasn't fully come to terms with her husband's death. Jack also struggles with his involvement with Charmaine Roberts, which poses a serious issue.
Jack eventually calls things off with Charmaine and tells Mel that he is interested in a realtionship with her. In secret, Jack tells Preacher that he is in love with Mel. After Mel leaves Virgin River unexpectidly, Jack feels betrayed and the two fall out of touch with one another. Jack blames Mel for leaving him without an explanation and is reluctant to understand that she was doing what was best for her at the time.
After a while, Jack forgives Mel and the two grow close once more; this leads to the two having sex. The town eventually finds out about their relationship and tensions arise once more between Jack and Mel. They are able to get passed this and eventually become exclusive with one another.[1]
Tensions with Charmaine
[
]
After Mel arrives in Virgin River, Jack begins pulling away from Charmaine, citing that he never wanted a serious relationship with her and the two have only been casual ever since they began sleeping together two years prior. This causes tensions in their interactions, given Charmaine fell in love with Jack; from this moment, Charmaine begins spreading rumours about Mel stealing Jack from her.
Things become increasingly difficult when Charmaine reveals that she is pregnant with Jack's baby. This eventually turns out to be twins, much to their surprise. Further questions arise over how the two will approach the pregnancy given Jack is not interested in being with Charmaine. Charmaine receives an offer from her aunt to move to Oregon with her and the children, which she considers taking.
Eventually, Jack reveals that he is looking at buying a house for the family in an effort to stop the back-and-forth between parents. This gives Charmaine a glimmer of hope that the two will resume their relationship, but Jack quickly makes it clear to Charmaine that the two of them will not resume their relationship.
Troubles with Calvin
[
]
After Brady leaves employment with him to work for the local drug cartel leader, Calvin, Jack becomes interested in taking down Calvin. This is furthered when one of Calvin's men attacks Mel looking for controlled drugs at Vernon's practice. Jack gets in contact with one of his former Marine contacts, Mike, but Mike is reluctant to aid him without proper evidence.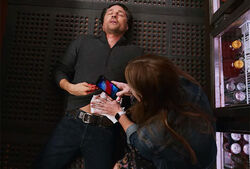 Jack is able to convince Spencer, one of Calvin's men, to co-operate with the authorities in exchange for protection for his families. This goes wrong, however, and Calvin orders that Brady shoot Spencer. Calvin sends numeorus verbal warning to Jack to stay out of his business, but Jack continues digging. This eventually leads to Calvin sending someone to work for Jack and poisoning the food, thereby hurting the reputation of Jack's Bar.
Shortly after receiving the warning and realising that it is from Calvin, Jack is shot at the bar by an unknown assailant whilst closing up.[1]
Personality
[
]
Jack Sheridan is "a sharp-witted ex-Marine commander, who moved to Virgin River after his service was over in search of a peaceful life, far away from the horrors of war."[2]
Trivia
[
]
Appearances
[
]
Gallery
[
]
[

]
References
[
]