We're Getting Mutants in the MCU - The Loop
Play Sound
"The Morning After" is the third episode of the second season of Virgin River. It is the thirteenth episode of the series overall.
Synopsis
[
]
Mel endeavors to help an uncooperative Charmaine get hydrated while thinking about what transpired with Jack. Calvin offers Brady a new job.
Plot summary
[
]
Picking up after their night together, Mel and Jack awake in bed together, having slept together the previous night. Mel is immediately concerned, however, that she may have moved to quickly and may not be entirely ready to further the relationship with Jack. Regardless of the fact that Charmaine is pregnant, Jack promises that he will wait for Mel and that the baby will not change his mind; the two agree to be friends in the meantime as Jack leaves to see Charmaine.
At Hope's, Charmaine refuses an IV on the grounds that she is scared of needles. Vernon and Mel explain that she is severely dehydrated, therefore needs the IV or the baby could be harmed. Mel elects to try meditation to convince Charmaine to take the IV, or Vernon explains that she will need to go to the hospital if not. Meanwhile, Mel and Jack have a tense encounter on the driveway as Mel is leaving Hope's, and the two refer to one another as "friend"; Charmaine witnesses this from the window, visibly jealous of the relationship between the two. After Jack returns to Charmaine, she asks if he can stay the night with her given she is feeling lonely. Jack is reluctant given he does not want a relationship with Charmaine but tells her that he will consider it.
Shortly after, Charmaine tries to do anything possible to annoy Mel, making a remark about the fact that Jack may be spending the night with her — Charmaine does not elect to remark that there is nothing romantic or sexual going on between the two.
Having been hired by Calvin earlier, Brady is introduced to his new job of running a yard full of machinery. Jack arrives at the yard shortly after asking if any of Calvin's men were involved on the attack on Mel, but Calvin assures Jack that all of his men are clean and none were involved. Jack asks to take a look around, but is met with resistance by both Brady, Jimmy and other members of Calvin's team. Jack warns Brady to watch his back around Calvin, and after he has left, it becomes clear that the attacker was one of Calvin's men who had supposedly left town.
Mel arrives at Jack's Bar to pick up Charmaine's lemonade from Preacher. She bumps into Vernon, who asks why she is letting Charmaine run all over her and has not yet gotten her to accept the IV. Mel remarks that she will handle it, but drops the lemonades on the driveway upon arriving at Hope's. When Charmaine refutes her help, she calls Vernon, asking him to be ready to take Charmaine to the hospital should she fail.
Meanwhile at Jack's, Preacher is distracted by the events that transpired with Paige, and doesn't notice when Jack is talking to him. Preacher snaps out of it moments later, telling Jack that he is distracted trying to think of a way to keep Paige's Bakery running whilst she is out of town. Moments later, Hope and Lizzie arrive at the bar and Lizzie immediately catches Ricky's eye. Hope and Lizzie talk, and Hope reveals that getting married at an early age was a mistake for her. Hope hands Lizzie her card to pay Preacher when he comes, but Lizzie takes the card and leaves the bar.
Later, Hope arrives at the practice to ask Vernon to help her locate Lizzie. Vernon is reluctant, teasing Hope about always being right, but when Hope becomes seriously worried, Vernon tells her to follow the boys and she will find Lizzie. Before she has the chance, however, Connie arrives and reveals that Lizzie returned home an hour ago. She hands over Hope's credit card which she found in Lizzie's purse.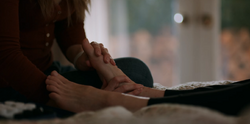 At Hope's, Mel tries once more to get through to Charmaine. Charmaine reveals that her mother died in the hospital which is why she cannot stand the thought of going there nevertheless giving birth there. Mel explains that her mother died at eleven years old, and the two connect for a moment. Shortly after, Charmaine agrees to try the reflexology to calm Charmaine down, and is successfully able to get an IV into her arm and push fluid.
Mel talks with Joey on the phone during her drive to the hospital to retrieve a portable ultrasound machine. She tells Joey that she had sex with Jack, and the sex was unfortunately phenomenal. Joey tries to convince her that she is lucky to find a second love in her life, but Mel feels hesitant to take the plunge. Arriving at Hope's, Mel performs an ultrasound for Jack and Charmaine who are both shocked to find they are having twins; despite his happiness, Jack is visibly concerned about what this means for his relationship with Mel.
Cast
[
]
Main Cast
[
]
Guest Cast
[
]
Jenny Cooper as Joey Barnes
Teryl Rothery as Muriel
Nicola Cavendish as

Connie

Ian Tracey as Jimmy
Marco Grazzini as Mike
David Cubitt as Calvin
Trivia
[
]
There are no credited Co-Stars in this episode.
Gallery
[
]
Promotional stills
[
]
Videos
[
]
[

]
External links
[
]
References
[
]